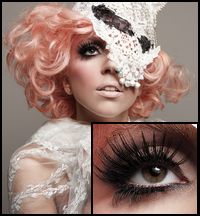 Ok, I must admit that I check www.gagadaily.com at least once a day. I adore Gaga's
style and her makeup is always fabulous. This is one of my favourite photoshoots that I believe was for 944 magazine.
As my Gaga tickets came in the post yesterday I thought it would be the perfect time to give it a go!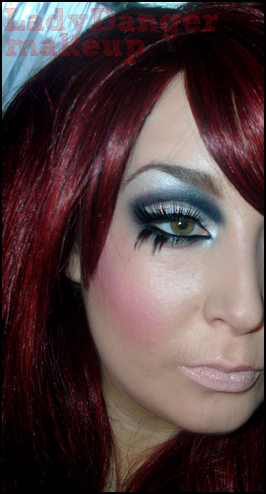 This was so fun to do! I always love a cut crease look. I'd definitely go out in this, but I'm not too sure if my friends would be willing to haha. Sadly it was a bit of a nightmare to photograph, my camera is dying so that was the only picture properly in focus :( Also, those lashes were super dramatic in reality! My camera hates to photograph lashes.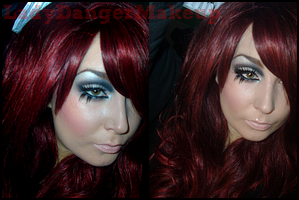 Products Used: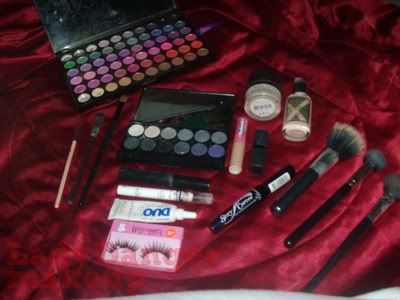 Please excuse how dirty everything looks, this was taken just after I'd finished the look and I hadn't gotten around to cleaning it yet!
Maxfactor Second Skin Foundation
Rimmel mineral foundation (used to set liquid)
Ebay 120 palette (mixed pinks for blush + brown for brows)

Sleek Graphite palette (black for crease, white for lid and highlight)
Boots Nuber 17 liquid liner
NYX jumbo pencil in Black Bean
DUO adhesive
Ebay lashes (top + bottom -bottom lashes were leftover trimmed corners)
Rimmel Sexy Curves mascara
Barry M lip paint - 100 (marshmallow)

MAC Heatherette Bonus Beat lipglass
Assorted non-branded eye brushes
Superdrug duo fibre brush
MAC 109 brush (foundation)
Non-branded contour brush

Phew! Sorry that list was a lot longer than I thought it would be. Anyway, hope you like it! :)

-LadyDanger xx