It's been 1 week since I cut off my nails in an attempt to grow them back more successfully and it's going pretty well so far. I prefer my nails to be square, but square nails apparently don't like me. I've recently been very good at chipping the corners completely off. To try and avoid this I've rounded the corners a lot more when filing them and it seems to have solved the problem (and using nail strengthener like it's going out of fashion).
I adore China Glaze Atlantis in the bottle, but I don't like how the green base looks on my nails as it really brings out the pink in my skin. Plus I prefer darker polish colours whilst my nails are this short.
This is 2 coats of Rimmel 60 Seconds in Black Out with just 1 coat of China Glaze's Atlantis. This is just personal preference as I don't like the look of really dense silver glitter over black, I prefer it to be slightly more sparse.
The ratio of silver to holographic glitter is really off in these photos, the camera picks up the holographic glitter more, when in fact there's not a lot of it when compared to the silver.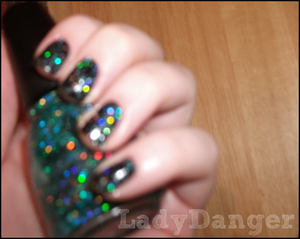 Blurry one in an attempt to show just how glittery it is. It's like mini disco balls at the ends of my fingertips in real life :)
Check out
Scrangie's post
of China Glaze Atlantis for a more realistic look at what the polish looks like without a black base. I'd say the colour is slightly off as it's a lot more green in real life, at least mine is. (Scrangie's blog is basically my nail polish encyclopedia).
-LadyDanger
xxx