I believe the extremely talented Pat McGrath did the makeup for this show. God knows how she managed to do all the girls, it took long enough to do mine! There were a lot of 60s-esque eyes using bright colours like bright pink, turquoise and orange but I decided to use Coco Rocha's look as inspiration as I thought the contrast of just the black and white looked lovely.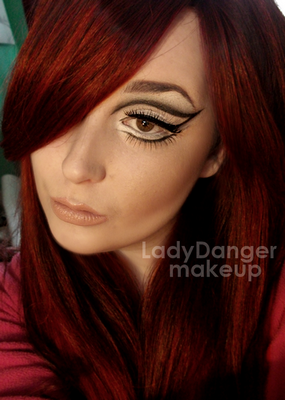 (click to enlarge)
The colours are a bit off in this picture, as I had 2 lamps in front of me for lighting haha, so it's put a strange orange-y cast on my hair and washed out the eyes a bit. They looked a bit bolder and the white looked more contrasted to my skin.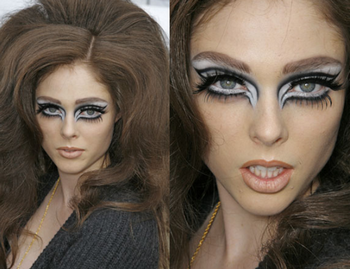 And of course the inspiration – both images from Google Images.
I desperately wanted to do the huge hair too but it would have been a nightmare to comb out! Maybe some day.
I changed a few things up, mostly being the top lashes as the ones used were enormous and I didn't have any that resembled them. Also, the bottom lash line was drawn in a bit thinner. I didn't carry down the lines towards my nose either. I'd say the look I did was a lot toned down in comparison.
*edit* I've just noticed that the angle of the camera is making my cheekbones look like they're down by my jawline! I can assure you they're not, there's a fair bit of space there haha. I think it's both a combination of the camera angle and me doing such a strong contour so low. Coco Rocha has cheekbones to die for!
Products Used
Face :
-Maybelline 24H Superstay Foundation
No7 Contour powder mixed with a mid-brown shadow
Brows were washed out using a mascara wand loaded with foundation to get the bleached effect. Then drawn in thicker using a lighter mid-tone brown from the eBay 120 palette.
Eyes:
NYX Jumbo Pencil – Milk
Sleek Graphite palette – white and black
Rimmel eyeshadow – matte white
L'oreal Super Liner – Carbon Gloss
3 sets of lashes total – bottom and 2 on top.
Lips:
Rimmel 1000 Kisses Lip Liner: Risque
Rimmel Moisture Renew Lipstick – Nude Delight
This was a bit of a weird one for me as I'm so used to lining my waterline!
-LadyDanger
xxx