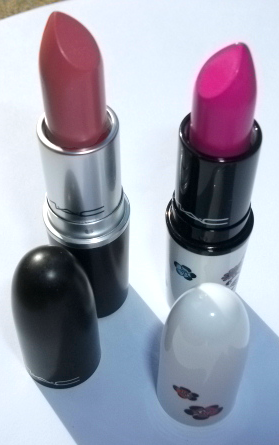 (l-r) Laugh A Lot (Lustre), Petals & Peacocks (Amplified)
I purchased Laugh A Lot for my mum as it's her go-to lipstick, so she asked me to pick her one up. It's a really pretty pink mauve with gold shimmer.
Petals & Peacocks is the lipstick I initially went in for, when I first saw it I was like WHOA MAGENTA - and I've kind of gone back on myself after the whole not liking Girl About Town, but I really like this colour.
Cremesheen Glass - Loud & Lovely
While talking to the MUA I told her I was looking for a bright pink lipstick, but after going through them I either own them or have tried them and not repurchased... So she talked about glosses and put this on over the Petals & Peacocks tester on my hand and I instantly fell in love, it makes the lipstick look slightly less purple and more pink toned. The texture of these is lovely too as I'm not particularly fond of the Lipglass formula, or Dazzleglass for that matter. This is really smooth and not sticky or gloopy.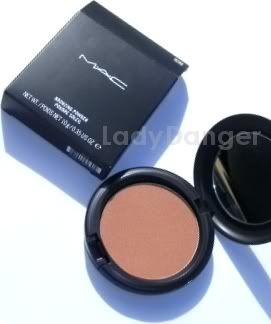 Bronzing Powder - Refined Golden
Just a mid-tone bronzer with shimmer, it's a really lovely colour.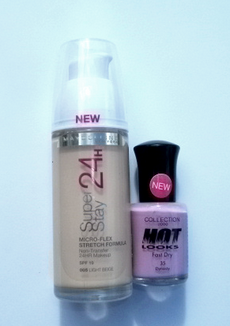 Maybelline Super Stay 24 Hour Foundation, Collection 2000 Hot Looks - Dynasty
I've fallen out of love with Maybelline Dream Creamy foundation - it claims to be "Specifically designed for normal to dry skin". I really have to disagree - my skin has become dryer lately and this just looks ridiculously cakey and dries to a matte finish - amplifying any dryness on my face. Also, although I have dry skin, I'm prone to breakouts around the chin area so I didn't like the idea of bacteria build up from dipping my brush into the container every day.
Maybelline Super Stay 24 Hour Foundation was on offer for £5.99 in Superdrug, and I wasn't all too keen on using another Maybelline foundation until I saw the colour range. If you have very fair skin like me you might want to take a look. There's a lot of very pale shades and I believe I got one of the palest: Light Beige. Light Beige looked more pink toned than the more yellow toned Sand. It claims to not wear off all day - I haven't tried it out yet so we'll have to see about that. But based on the colour it looks promising.
The nail polish is just Collection 2000 from their 'Hot Looks' range. I've been looking for a good lilac nail polish and this was only cheap so I thought I'd try it out.
-LadyDanger
xxx