I finally chipped off a bit of nail varnish from my 'Glitter Manicure NOTD' - but it did last from Thursday evening until today to I'm quite impressed by the lasting power of Barry M's 3 In 1 nail paint (base coat, topcoat & nail hardner).
I decided to give Collection 2000's Dynasty nail polish from their Hot Looks collection a try.
It's a pale pastel lilac that has a pink tone to it. Very pretty! For £1.79 a bottle I thought I'd give it a go and I'm glad I did! This is 2 coats with a base coat and topcoat (Barry M 3 In 1 nail paint). The application was very smooth and streak-free.
I feel like these pictures pick up the pink tone a lot more than the lilac, in daylight there's a definite lilac tone to it. So imagine it a bit more lilac-y ;)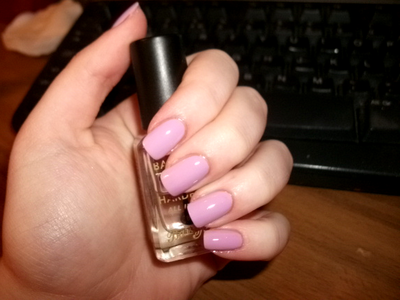 As you can see from the picture below, the bottle size is fairly smaller than your average nail polish, compared to the 10ml Barry M polish, the 8ml Collection 2000 one looks tiny!
I'll have a few more makeup posts up this week for those getting tired of my NOTDs!
-LadyDanger
xxx