These arrived last week, within 2 days of being dispatched so I was very impressed. I've been using for a week to get a good idea of what the product is like before putting my opinion of them on here. These are the first products I've ever tried from the company and I'm certainly very glad I decided to try them out.
Firstly, the brushes. I ordered from the regular line the Concealer and the Blushing, Bronzing and Blending Brush.
I really like these both, the concealer brush is great for covering small blemishes, and can also be used as a lip brush as it's the perfect size for creating a rounded cupids bow.
The Blushing, Bronzing and Blending Brush isn't the softest brush in the world but I don't mind it it's quite soft, what I do like is that it's very small, angled and the perfect size for creating a precise contour. I wouldn't really use this brush for bronzing or blending at all, maybe blush but the shape certainly calls for applying a contour or highlight to the cheek area.
From the studio brush line I ordered the Small Angled Brush, and I must say it's smaller than I expected! I've been using this to fill in my brows and it's very good if you like to be precise in this area. I found it ideal for the outer part of my brow as naturally my brows tail off very thin, so I don't like to fill it in with too thick a line. This is also a great brush for applying eyeliner.
One product I do dislike that I purchased is the Wet Gloss Clear Lash & Brow mascara – I use clear mascara to set my brows usually but I really don't like this product at all. For me the mascara wand is simply too stiff to apply product to the brows and feels like it's scraping your skin.
From the Studio line I purchased the Contouring Blush & Bronzing Powder.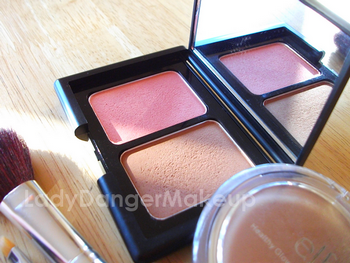 I was initially very surprised with the size of this I expected it to be a lot smaller. Both the blush and bronzer are amazingly pigmented, the blush is a lovely peachy pink with gold shimmer. One thing I will say about the bronzer is that it's not ideal for contouring with as it's very shimmery = the opposite of what applying a contour is supposed to do. Creating a natural shadow with a shimmery product is defying the purpose in my eyes. Using this as a bronzer it's very nice however, and not muddy looking at all. I'll definitely repurchase this.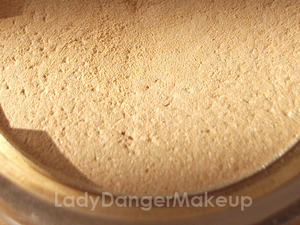 (really huge close-up picture, click to enlarge)
Healthy Glow Bronzing Powder in Luminance.
I LOVE this as a highlighter. This isn't the most tightly pressed powder in the world so I imagine dropping it would result in a shattered powdery mess, but it's very soft pale golden powder that looks amazing when it catches the light. I can see this suiting a lot of skintones. It originally came with the ELF logo embossed on it but as I've been using it it's worn down. I can see myself repurchasing this time and time again. It gives a healthy glow that's not glittery or shimmery, it's somewhat metallic.
Swatch: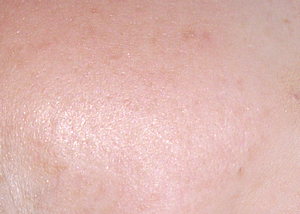 I took this photo today after wearing it for a few hours on my cheekbone. This is applied to moisturised skin as I went foundaiton-free today. As you can see I have some very light freckles that are visible hehe. I took this with a flash so my whole cheekbone isn't illuminated, just the area the flash hit - don't worry I didn't have patchy highlighter.
And that's everything I purchased I'm afraid.
-LadyDanger
xxx