I know everyone's been giving rave reviews on these products, so when I finally got to see them in person today and swatch them I was disappointed to say the least. The eyeshadows are amazingly pigmented on the fingertips, but when swatched on the back of a hand or applied with a brush they become very sheer; I think the only way to get true color payoff is to apply them with a wet brush.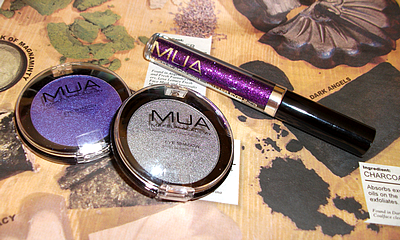 The 2 shades I picked up were 9 (purple) and 3 (dark silver). I really wanted the matte purple but the pigmentation of the matte shadows in comparison to the 'Pearl' finishes was awful.
To get this colour payoff I had to layer the colour 4-5 times, which I still think is pretty sheer to look at.
One thing you may notice from the up-close and personal pictures of the glitter liner is that the glitter isn't one uniform colour, it oddly has random flecks of green in there too.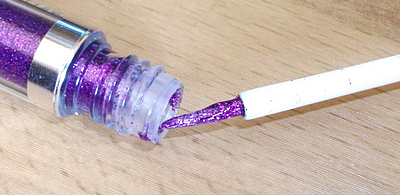 The glitter eyeliners have a rather big brush applicator too, which can be a bit of a pain when it comes to application. The liners aren't packed with glitter, so it's pretty much the same as the Urban Decay glitter liners, in which you'd have to go over it 3-4 times to get a somewhat solid glitter line.

Overall, I don't think I'd repurchase. For £1 they're great for experimenting with new colours or those new to makeup, especially great if you're on a budget but I'd rather pay a few pounds more for eyeshadows that are going to have better pigmentation. I doubt I'll get much use out of these as I have similar colours with much better pigmentation, but I do quite like the glitter liner.

-LadyDanger
xxx