I'm just going to be honest: I like anything that's glittery, sparkly and is reminiscent of a disco ball.
After my 'Holographic Nail Tips' blog post I decided I wanted to take it a step further and go for full-on blinged out nails.
I entirely blame Katy Perry for my fascination with sparkly silver nails after she posted a photo on Twitter of her silver rhinestone encrusted nails: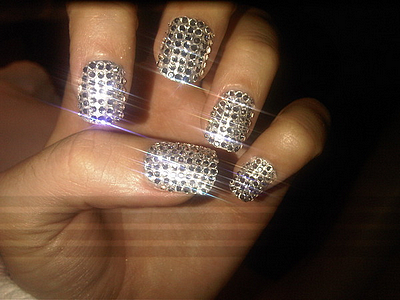 Due to the fact I didn't have near enough rhinestones on hand to attempt a re-creation, I decided to make my own holographic glitter nail polish instead. I generally favor holographic silver glitter over plain silver glitter as it looks a lot more sparkly. The rainbow of colours it reflects gives more of a star burst effect.

I used an older bottle of Barry M's 3 in 1 nail paint that was about 1/5th full and had become somewhat gloopy due to regular use; when the bottle is fresh it's a very thin textured topcoat that dries quickly.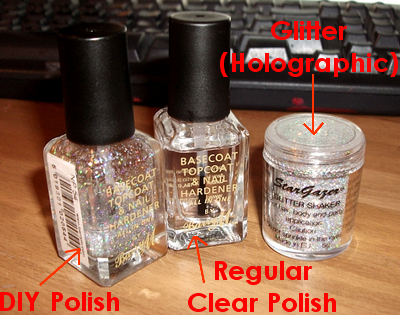 To pour the glitter into the bottle I used a piece of paper rolled into a funnel shape and stuck it in the top of the bottle, then poured the glitter in. I didn't measure how much glitter I used, but by eye I'd say about 1/12th of the container. I added some more clear nail polish to the mixture (from a new bottle of Barry M 3 in 1 nail paint) to thin the polish out.