Hi everyone,
Today the postman handed me my lovely Illamasqua box. I ordered it on Friday, but with the bank holiday it wasn't dispatched until yesterday and only took one day to arrive.
This is actually the first thing I've ordered from Illamasqua, the nearest counter to me is in Manchester which isn't too far but still a pain to get to as I'm not there very often at all - I'd much rather see the other products in person before purchasing.
Like many things a
swatch of this on Temptalia
sparked an obsession so I decided to take the plunge and I wasn't disappointed! I can quite safely say this is one of my favourite pink lip products at the moment.
It's a bright borderline neon pink. In the tube it looks like there are some tiny red particles in the gloss, but on the lips they aren't noticeable.
I actually like the packaging that it comes in, I always apply bright colours with a lip brush so doe foot and brush applicators are always a pain. I like that you can squeeze out the product and apply it however you choose:
As expected, colour payoff IS intense, very opaque and true to the tube colour: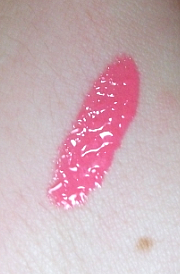 As for scent, it's a pleasant sweet smell that is somewhat fruity. If you ever had Tixylix cough medicine as a child it reminds me of that, but I always loved the taste and smell of it so that's probably my fond memory overpowering the actual scent!
Formulation is somewhat sticky, so it has fairly good lasting power - but nowhere near as irritatingly sticky as a MAC Lipglass or Dazzleglass.
-LadyDanger
xxx