Lush Eau Roma Water (toner) and Lush Fresh Farmacy (Cleanser)
I decided to talk about these products together as I feel the major improvement in my skin has been from using both- I can't credit one more than the other! Eau Roma Water is a toner designed for dry, older or sensetive skin – I have both dry and sensetive skin and I find it really refreshing. The main ingredients of lavender and rose water smell lovely too, if not somewhat herbal which I can see not everyone liking. Fresh Farmacy to me smells like... how I would expect a plain bar of soap to smell, but the magic is what it does to the skin. On the Lush website it says it 'makes a tiny bit of froth' but I find this froths up a lot which I really like. I cut a small chunk from the large piece of cleanser and rub it in my hands after wetting them with warm water and apply to the face that way as I feel it's the most sanitary way for me and generates the most froth. I find a smaller piece around 3cm wide to last me about 3 days, using it once in the morning and then in the evening. I've seen a significant difference in my skin since using these frequently – my skin feels a lot softer and I no longer have any dry patches, in fact it doesn't seem to be dry at all. I've been breaking out less frequently, and when I do it's only been one blemish at a time that cleared up in 2-3 days. Overall I'm extremely impressed and will definitely be repurchasing!
(Fresh Farmacy Cleanser)
SJP - NYC (Sarah Jessica Parker fragrance)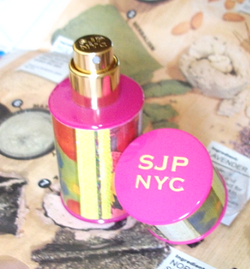 Pondering the perfume isles of Debenhams with no intention of purchasing a fragrance that day, I stopped to take a look at the display for this purely based on my love of Sex and the City, I'd heard that the perfume was created to capture 'the essence of Carrie Bradshaw' so it sounded right up my street.
The sales assistant nearby offered to spray some on my arm – I usually decline but I was intrigued and said ok. I then walked around the makeup counters and I seriously could not stop smelling my arm (yes this did lead to a few funny looks from fellow shoppers), so I decided to pick up the smallest 15ml size as I've been looking for a small fragrance to put in my handbag. I've used this every day since so clearly I'm going to have to go back and pick up the 60ml bottle! It's ideal for summer as it's a sweet floral with a distinct strawberry top note. I just wish this was an eau de parfum as the lasting power whilst good is not amazing.
For a more in-depth description you can always check out
the website
which very handily provides an overall description, top notes, middle notes and bottom notes complete with illustrations ;)

MAC Pearl Cream Colour base
I've been using this as a highlight for my cheekbones, and I seriously love it, I don't think I'll ever go back to using a powder hilighter! It gives a gorgeous natural glow that doesn't look sparkly or overly-shimmery. You don't need to use a lot of product either which is always a bonus. I've been applying this with both my fingertips and a duo fiber brush. My only issue with this is it wasn't as creamy as expected.

MAC Brun Eyeshadow
An all-rounder, it's the perfect shade for my brows and great in the crease too, this has quickly become one of my most used eyeshadows. I really do love neutral shades, a good half of my shadow collection is neutral as I find them so versatile.
Barry M Peachy Pink Lip Paint
I've been using this every day, to me it looks rather retro as it's quite a white based peach so it stands out quite a bit by itself and looks lovely paired with winged out liner. The only downside is that the formulation is quite dry so lip balm is definitely a must before application.
Fresh Lime Juice Sugar Scrub
I actually saw this on one of Kandee Johnson's latest youtube videos, though I've been using it differently to the way she applied it with a cotton pad. I squeeze my lime juice into a container, and have a seperate one for the sugar as it dissolves really quickly, I mix the 2 in my hand and exfoliate each part of my face separately – I tried mixing them together in a container but by the time I'd exfoliated half my face the sugar had mostly dissolved. This leaves my skin looking really glowing and refreshed – I alternate using this with my extra virgin olive oil sugar scrub throughout the week.
Vaseline Rosy Lips
'Lip Therapy With Rose and Almond Oil'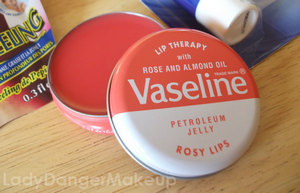 I'm actually on my second tin of this – I think it performs a lot better than regular Vaseline as I actually find this moisturising. I often get dry lips and this really softens them. It gives a lovely pink tint to the lips too which is good for days I don't feel like wearing a gloss or lipstick.
Lush Ocean Salt Scrub
I feel like this is the exfoliator equivalent of a brillo pad – it's just much too abrasive for use on the face. The chunks of salt really are quite large so I can see you doing a fair bit of damage with this. For my skin type I found it to actually burn a little so I immediately washed it off and it left my skin looking blotchy, I just don't think the ingredients mix well with dry and sensitive skin: looking on the Lush website some people with similar skin types have had the same problem too. This was the product I expected to like the most and I'm sorry to say I really dislike it!

-LadyDanger
xxx