Hi everyone,
Yesterday I got a little surprise in the post - about 1 or 2 months ago I entered a giveaway on Rimmel's website in which they were giving away 12000 free Colour Show Off lipsticks which I naturally forgot about after assuming I hadn't won one.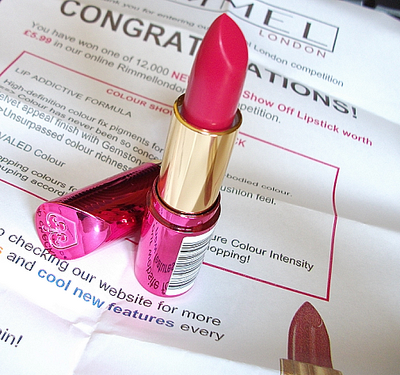 I vaguely remember Rimmel allowing you to choose which lipstick you would like if you were a winner, at this point I hadn't seen them in person so I just picked Shocking Pink which sounded promising. It's a really deep bright pink that looks very red based on me.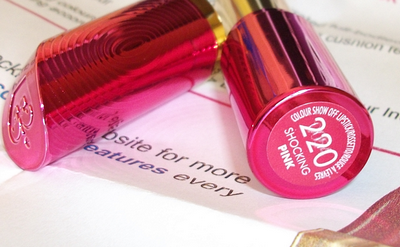 It has a somewhat watermelon scent which I recognise from previous Rimmel lipsticks I've owned in the past. The thing that surprised me most has to be the consistency, I expected these to be matte and drying which is why I didn't purchase any, but in fact they're nice and creamy and leave a nice sheen on the lips.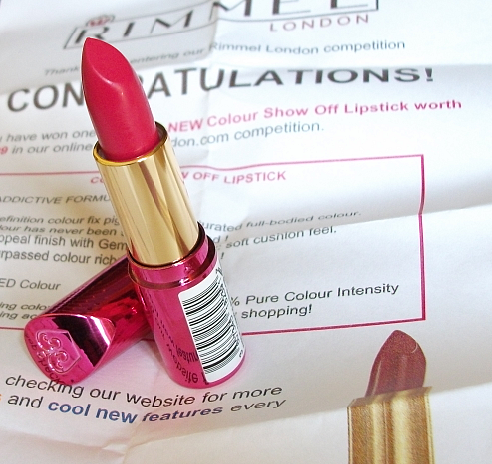 The only downside for me is the colour as it's something I wouldn't usually wear but I think it could look gorgeous with winged liner for a night out. For day wear it's a bit stark against my pale skin - I can see it looking gorgeous on deeper skin tones :)
The pigmentation is amazing, it glides on really easily and one swipe gives colour identical to that in the tube: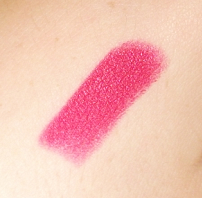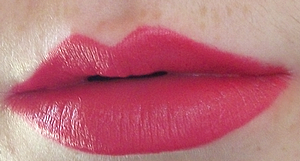 (excuse the shoddy lip swatch, I just applied it quickly straight from the tube - certainly a no-no, this is definitely a colour that I would use a lip brush with).
For reference of how creamy it is my lips were slightly dry when I applied this, I didn't put lip balm on before.
Overall, I'm very impressed. I think I'll be purchasing a few colours from the range, Smaira has a gorgeous
swatch of Kiss Me
which I will be sure to pick up after seeing her pictures of it!
-LadyDanger
xxx